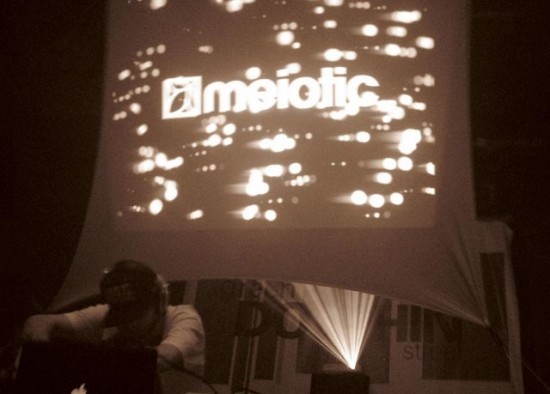 Born out of an idea hatched in the Winter of 2001 by a group of Chicago-based music enthusiasts seeking to provide a proper platform for artists truly pushing the creative envelope of electronic music, Meiotic concentrates on the booking, production, and promotion of multimedia events featuring players (i.e. live pa's, dj's, etc.) renown on regional and international fronts for broad and ambitious musical artistry, excelling in both listening and dancefloor contexts without regard for media dictated boundaries in music.
2011 marks the ninth year that Meiotic has produced events at clubs & venues throughout our beloved home, the City of Chicago. Over that time, we've built partnerships with like-minded agencies in the world over, and featured a diverse array of definitive and envelope pushing electronic music producers/djs/artists (see Guest Artist listings below).
With relationships built from our firmly planted Chicago roots, we take pride in our hometown, and proudly represent our Chicago background wherever and whenever possible. Thanks to everyone who has supported our efforts over the years… and we look forward to your continued support in the years to come!
Artists A-I
Akufen
Apparat
Archetype
Bruno Pronsato
Clark Warner
Dabrye
Daedelus
Daniel Bell

Daniel Meteo
Dark Party
Dave Clarke
Deetron
Derek Plaslaiko
Derrick May
Egyptian Lover
Eliot Lipp

Ellen Allien
Four Tet
Geoff White
Green Velvet
Gui Boratto
Herbert
Isolee'

Artists J-U
James T. Cotton
Jeff Samuel
Jake Fairley
Jeff Mills
Ken Ishii
Kenny Dixon Jr.
Kevin Saunderson
Kill Memory Crash

Leo123
Los Hermanos
LoSoul
Lusine
M.A.N.D.Y.
Mathew Jonson
Matthew Dear
Metro Area

Michael Mayer
Moodymann
Pan/Tone
Process
Nobukazu Takemura
Orlando Voorn
Phon.o

Artists V-Z

Reinhard Voigt
Rick Wilhite
Richie Hawtin
Sammy Dee
Someone Else
Spinoza
Stewart Walker
Sven Vath
Superpitcher

Telefon Tel Aviv
Theo Parrish
Thomas Brinkmann
Thomas Fehlmann
Titonton Duvante
ToddSines
T.Raumschmiere
Traxx